Differential pressure control is strictly required in any cleanrooms. To monitor the differential pressure, differential pressure gauge is used. This article will provide the basics of differential pressure gauge: structure, working principle, and installation. Let's find out!
1. What is differential pressure gauge? 
A differential pressure gauge (or a differential pressure transmitter) is a device used to measure the difference in air pressure between two points within a system.
Maintaining the right amount of differential pressure in cleanrooms is critical for preventing contamination. That's a reason why differential pressure gauges are commonly used in cleanrooms.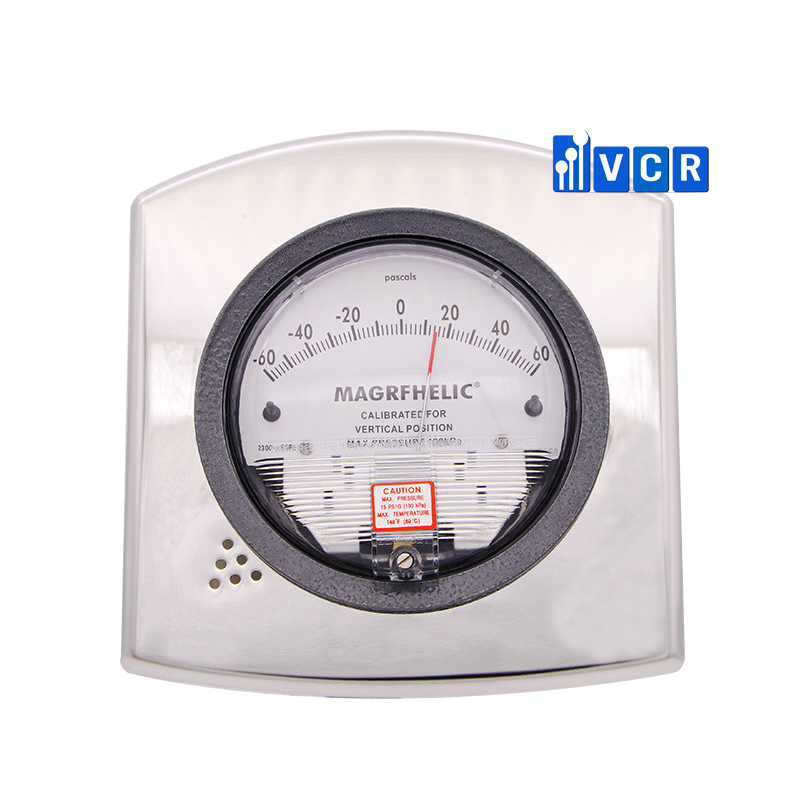 2. Applications
Differential pressure gauges Series 2000 are widely used to measure the pressure of fan and blower, air velocity, pressure drops across orifice plates, liquid levels with bubbler systems, and pressures in fluid amplifier or fluidic systems.
This differential pressure gauge is commonly used in chemical processing, oil refineries, gas liquefication, power plants, pharmaceutical manufacturing, food production, and industrial processes. It assists in flow measurement and filter monitoring.
3. Structure
A differential pressure indicator is comprised of:
Sensing element
Drive bar
Magnet
Pointer
High-pressure port
Low-pressure port
Bezel with magnets
4. Working principle 
Differential pressure gauge have two ports that are connected to the two pressure sources.
When connected to the pressure sources, the gauge will monitor the difference in the pressure between them, when the pressure reaches a set point the switch will either make or break a circuit as the internal diaphragm deflects under pressure making contact. This will trigger the helix. The helix turns the needle on the gauge to indicate the pressure.
5. Differential pressure transmitter specification
Temperature Limit: -15 ~ 60℃
Pressure Limit: -68 ~ 103 KPa
Overpressure: Protective rubber stopper will be blown out if pressure is up to about 172 KPa.
Connections: 1/8 "NPT high and low-pressure taps, duplicated, one pair side and one pair back
Housing: Die-cast aluminum case and bezel with acrylic cover, exterior finish is coated gray to withstand 168-hour salt spray corrosion test
Accuracy: ± 2% F.S @21 ℃ (3% on 0,  4% on -00)
Standard Accessories: Two 1/8 "NPT pipe plugs, rubber tubing adapters; 2 1/8" NPT
Weight: 460g
6. Differential pressure gauge installation 
Read more: Differential pressure gauge installation procedure
7. Differential pressure gauge supplier in Viet Nam 
VCR – Vietnam Cleanroom Equipment is a reliable supplier in Viet Nam
We provide 2 brands of differential pressure indicator, which are MAGRFHELIC and MACROSCOPIC series 2000 with various pressure ranges (-60-60pa, 0-60pa,  0-250pa, 0-500pa, 0-750pa,…)
VCR also provides differential pressure indicator accessories.
Why choose VCR gauges?
– Accurate measurement
– Various pressure ranges
– Replacement for goods having faults from manufactures
– Fast delivery
– Reasonable price
– Professional service
We provide differential pressure gauges Series 2000 for cleanrooms throughout the provinces and cities:
North: Lao Cai, Yen Bai, Dien Bien, Hoa Binh, Lai Chau, Son La. Ha Giang, Cao Bang, Bac Kan, Lang Son, Tuyen Quang, Thai Nguyen, Phu Tho, Bac Giang, Quang Ninh. Bac Ninh, Ha Nam, Hanoi, Hai Duong, Hai Phong, Hung Yen, Nam Dinh, Ninh Binh, Thai Binh, Vinh Phuc.
Central Region: Thanh Hoa, Nghe An, Ha Tinh, Quang Binh, Quang Tri and Thua Thien-Hue. City. Da Nang, Quang Nam, Quang Ngai, Binh Dinh, Phu Yen, Khanh Hoa, Ninh Thuan and Binh Thuan. Kon Tum, Gia Lai, Dak Lak, Dak Nong and Lam Dong.
South: Ho Chi Minh City, Dong Nai, Ba Ria-Vung Tau, Binh Duong, Binh Phuoc, Tay Ninh, Ho Chi Minh City. Can Tho, Long An, Tien Giang, Ben Tre, Vinh Long, Tra Vinh, Dong Thap, An Giang, Kien Giang, Hau Giang, Soc Trang, Bac Lieu and Ca Mau
Contact VCR now for the best price!
Hotline: +84 90 123 7008 / +84 90 123 9008 (Whatsapp / Zalo)